What Is The Shared Responsibility Model?
If you're moving data, containers, and workloads to the cloud, you'll need to bring in some security personnel to ensure that the cloud service provider takes part, but not all, of the responsibility. To avoid introducing vulnerabilities into your public, hybrid, or multi-cloud systems, both your providers' and your obligations must be well defined.
The provider and the kind of service affect Shared Responsibilities
In a traditional data center approach, you must protect your whole operational environment, from your applications and physical servers to user controls and even the physical security of your building. Numerous operational difficulties, including security, may be alleviated in a cloud environment.
Security ownership must be clearly defined in this shared responsibility paradigm, with each partner having total control over the assets and processes they own. Collaborating with your cloud service provider to share part of the security burden can help you maintain a secure environment while reducing operating costs.
Defining accountability lines in a paradigm of shared responsibility
Understanding the line between your provider's and your duty is critical for a successful cloud security installation. If you use an IaaS or PaaS service, the solution is not always straightforward, and service providers' definitions of the shared responsibility security model may differ.
AWS asserts responsibility for "safeguarding the hardware, software, networking, and facilities that underpin AWS Cloud services" under the Shared Security paradigm. Microsoft Azure asserts the security of its physical hosts, networks, and data centers. You are ultimately responsible for the security of your data on AWS and Azure, depending on the services you use.
Although shared responsibility agreements use the same language, there is much room for interpretation and argument. Specific security components are the service provider's property, while others are your responsibility to maintain. Different security duties are assigned to various cloud service providers and service types for services, applications, and controls between those ownership layers.
Due to these ownership inconsistencies, a multi-cloud system is rife with risk and complexity. Security assessment and monitoring must be customized for each environment, application, or service in question. However, your whole security posture is determined by your most vulnerable point. If a security hole exists in one system, it exposes your entire stack and any related procedures.
Consider shared accountability from a vendor-neutral perspective
The illustration below illustrates a shared responsibility paradigm that is focused on concepts rather than service level agreements. Security should be brought up immediately when discussing shared obligations with a cloud provider. This lesson may assist you in better understanding your role and responsibilities when it comes to safeguarding your cloud installation.
How can security professionals begin preparing for the SRM today?
While the SRM covers non-security concerns like contracts and financial penalties, it also tackles several security issues. Security professionals must be aware of their SRM responsibilities concerning the services they use and the implementations and designs their businesses employ. There are a few things to keep in mind when it comes to cloud data accidents. This is a primary explanation of why you must comprehend and adhere to the SRM technique.
If you are a security executive or a technical security practitioner, your responsibilities will be somewhat different. This comprises cloud security engineers and architects responsible for defending your company's cloud services and those who assure the services' security.
They should have a solid understanding of the platforms and services used by their organization and how to integrate them appropriately. Engineers and architects working on cloud security routinely interface with engineering and development teams. When it comes to cloud data, the most common source of security breaches is wrong setups. If you are unable to detect them, your business is at risk.
Your CSP can assist you in locating appropriate security resources. Suppose your business makes use of Amazon Web Services (AWS), for instance. In that case, you'll have access to a massive library of security information organized alphabetically by service type (e.g., compute, storage, security, identity, and compliance). This section provides various information, from securely configuring services to configurations you may modify and troubleshooting suggestions.
Inventorying service consumption, maintaining compliance with appropriate regulatory frameworks, and comprehending contractual/legal factors such as CSP service level agreements (SLAs), particularly when it comes to incident response plans, are essential concerns for security executives.
Organizations commonly partner with the CSP on joint endeavors. Verify that the services you are utilizing are compliant with the rules to which you are subject. With AWS and Microsoft Azure's "services-in-scope" websites, you can rapidly discover which services meet specified requirements and which are still awaiting approval. This ensures that your team not only builds safe and robust cloud infrastructures and workloads but also utilizes cloud services that adhere to your organization's applicable requirements, avoiding compliance or regulatory difficulties.
Cloud system security should be a top priority for security specialists at all levels. Developing security best practices with your particular cloud service providers (CSPs) or utilizing a benchmark such as the Center for Internet Security (CIS) for your multiple cloud environments may be the solution.
The matrix of customer accountability
CRM is a vital component of SRM since it details the CSP's controls and duties and those of the cloud consumer. The United States Federal Risk and Authorization Management Program makes it simple to obtain and learn more about CRM templates (FedRAMP). FedRAMP is a program that regulates the federal government's use of cloud services.
The utilization of a CRM is critical for security professionals. This implies that either the CSP or the cloud customer is responsible for the SRM's security controls or that the CSP and the cloud customer are responsible for the SRM's security controls. Security practitioners that utilize CRMs will immediately comprehend this delineation of security controls.
Businesses can outsource security-related tasks to the cloud service provider, freeing up resources for critical capabilities. However, it establishes a chain of accountability that security professionals must understand and manage effectively. You are ultimately responsible as a customer for any reputational damage caused by a cloud data breach. If you're ready to learn more, contact the professionals at SSI today!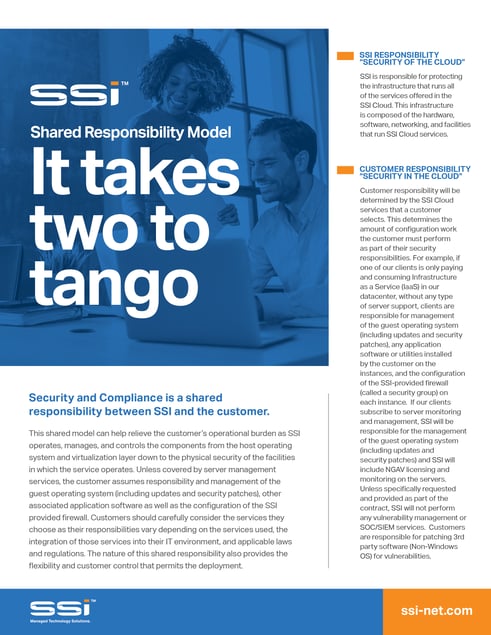 Shared Responsibility Model


Read how Security and Compliance is a shared responsibility between SSI and your organization. Learn which model may work for yours.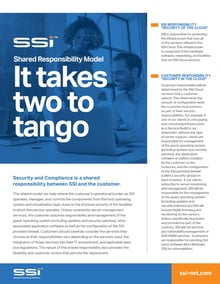 DOWNLOAD