Will a VoIP Phone System Work Without the Internet?
When VoIP made its debut in 1995, it changed the way we communicate in an impactful way. If you are interested in learning more, most especially about whether a VoIP phone service will work without the Internet, then this article is tailored specifically for you.
What is a VoIP phone service?
The term Voice over Internet Protocol describes the standards that comprise using an Internet platform to emit voice-based phone calls. Instead of utilizing your local telephone company, VoIP transforms your analog voice signal into a compressed digital signal so that it can be transported to the intended recipient via Internet protocols. Right before it reaches the receiving end, the signal is uncompressed to ensure a clear voice sound.
Why has VoIP become so popular? Well, the prominent reason is people can make calls without having to go through a traditional telephone service. It also cuts costs on long-distance calling. In addition, remote employees can make calls from home as long as they have an Internet service – there is no need for copper wiring.
Further, since it is an online communication tool, VoIP offers a larger variety of features than you can ever get from a traditional landline. Moreover, your VoIP service provider will ensure your data is stored safely in the cloud. Meanwhile, you can manage your contacts, numbers, call forwarding, and other features through a convenient online dashboard.
Some of your best decisions have come from throwing ideas around with your team. Yet, in a remote environment, this can become difficult to do. However, with VoIP, you can simulate the "in office" experience. Most employees, and partners, already have Internet service as well.
VoIP offers unparalleled flexibility
Why are businesses implementing VoIP at a skyrocketing rate? For starters, instead of having to invest in an expensive office phone system or create an in-house server room with an on-premise Private Branch Exchange (PBX), all you need is for your VoIP provider to configure your VoIP desk phones. Even if you already have a PBX, you can still take advantage of VoIP technology and the agility that comes with you.
For instance, with a hosted VoIP system, you can configure smartphones to ensure your remote team members stay connected via a unified business communication system. You can even manage permissions and features based on employee designation with increasing sophistication as needed. If your remote employees talk to customers, all they have to do is pick up their VoIP device and dial or receive calls as they would in the office. The IP phone will travel through your Local Area Network where your VoIP provider will establish the call. Also, this will be done in high definition so that your business will never have to miss a customer call due to poor sound quality. It really is that simple.
What if you have an on-premise and hardwired telephone system? Not to worry, you can still combine your analog phone system with your new VoIP phone service to mitigate redundancy and improve communication flexibility, convenience, and quality. All of your employees already own a mobile device. As a result, a unified communication is no longer a nice option to have, it is a must.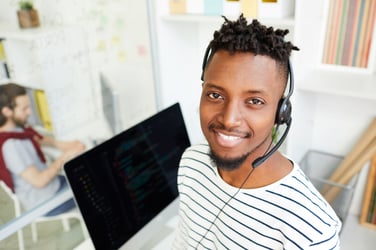 What are some of the features of a VoIP phone service?
Not only will you optimize the availability of your phone service, and achieve significant cost savings over a traditional office phone service there are other features to highlight including the following below:
● Unlimited Calling – Call anywhere, nationwide, as often as you prefer. There are no minutes to track or data limits.
● Voicemail-to-Email – You can always access your messages via your inbox.
● Auto Attendant – Never miss a call, even when you can't pick up your device with an auto attendant.
● Conference Lines – Maintain your meeting schedules, or talk to partners, even while working remotely.
● HD Voice Quality – Think online communication is spotty? Think again. VoIP offers HD voice quality.
● Call Queues – Your employees might have a busy day, no problem. Call queues will keep customers on the line until the next team member is available.
Not to mention, these are just a few of the many features offered with VoIP.
Will a VoIP phone system work without the Internet?
You'll need a reliable internet connection such as DSL, cable, or fiber from an Internet Service Provider (ISP). The standard bandwidth required for VoIP is 100 Kbps per device. Depending on the type of data and features you'll use, you might need more bandwidth than the standard.
While the name itself mentions the Internet, can you still make calls without the Internet or when the Internet is down? In a word, yes. Your VoIP can continue to operate as intended when you use a VoIP service provider such as SSI who offers built-in redundancy and call continuity. This is about business continuity.
Disasters can happen, but that shouldn't impede your ability to operate your organization as usual. If your Internet fails, built-in redundancy will automatically forward calls in real time to specific mobile numbers. So then, you can use any mobile device of your choice to make a VoIP call even if your Internet connection is down. This also includes your VoIP features such as call forwarding, voicemail, and more. On the other hand, there is disaster routing which routes a call to any system designated by the user to ensure communication is continued.
The short answer is, yes, you need the Internet. But, your VoIP service provider will configure your system to automatically reroute calls in the event of an Internet failure such as what might happen in the event of a natural disaster. Consider the fact that if your landlines are affected by a natural disaster, your VoIP can remain up and running. This can be critical especially if you need to assist affected customers in a timely fashion.
SSI offers VoIP redundancy as part of our robust approach to ensuring unified communication resiliency. Within second, connections can be switched over without disruption for comprehensive VoIP call continuity.
Final thought
Are you ready to switch to a VoIP phone service? Partner with SSI to receive an outstanding experience and reliable setup. Uptime, quality, and availability are hallmarks of our service. We ensure your employees are happy so that they can keep your clients satisfied.