What are the 5 Layers of Security?
There isn't any question that businesses are acquiring and storing more data than ever before. In conjunction, the frequency of data breaches is skyrocketing. In 2016, over 1.4 billion records were compromised – and that number keeps growing. Moreover, studies have shown that many of these breaches were perpetrated on midsized organizations as they are considered to have limited resources for cyber security services.
To ensure data protection for the business, and its customers, 5 layers of security should be implemented. A robust security system induces more trust from both your employees and your customers.
There are so many risks associated with the digital space that enact cyber security services crucial for minimizing risks to your network. Further, the network's communication channel is often vulnerable to attack. There isn't a better time than right now to understand the inherent online risks so that you can make cyber security services a priority. Let's explore some of the more pervasive risks that you may come across:
Active attacks
When an active attack occurs, the perpetrator is often trying to exploit any security loopholes to access and control your networks. Usually, the hacker will pretend to be a trusted system. Concerning denial of service attacks, the cyber criminal will attempt to shut down your systems by flooding it with junk or redirecting traffic. An active cryptographic attack involves sophisticated tools for decrypting data.
Passive attacks
A passive attack is where the threat actor will watch your networks to try to discover secrets. These types of attacks can be system-based via a Trojan horse or network-based using a communications link. Unfortunately, passive attacks are the most malicious because they are challenging to catch.
Adhere to 5 layers of security
Invariably, cyber risks happen on many levels. As a result, you need to configure 5 layers of security. You don't want your employees to connect to your systems and have to worry about unauthorized intrusions or denial of service. On the other hand, a layered approach using professional cyber security services ensures that even if an attack can penetrate one layer, it will be stopped at the next layer.
You should have cyber security services in place from the system to the transaction level. There is no such thing as 100% protection, but the first step is layering your security to ensure more robust risk mitigation. Now, let's get into the 5 layers of security you can count on with SSI.
Solution perimeter security
With 5G and the Internet of Things (IoT), all devices communicate with other services and devices. So then, it creates a communication link. When you restrict device connections, then you can reduce the attack surface by using firewalls. For instance, a boundary firewall would limit both inbound and outbound network traffic and use "firewall rules" to either block or allow traffic based on its source, communication protocol, and even destination. On the other hand, a host-based firewall can be configured on every device and offer more strategic rules for added protection.
Another component of solution perimeter security involves vulnerability scanning, which tests, identifies, analyzes, and reports any possible cyber security issues on a network. For example, SSI would execute an external scan to replicate how threat actors might access your network. Also, SSI would run an internal scan from inside the network to determine how a cyber criminal would traverse the network and which data they might collect.
Adding to solution perimeter security cyber security services is multi-factor authentication (MFA), which has become a crucial aspect of protecting mobile devices. Moreover, it complements the usage of passwords for protecting personal data and access to company networks. Essentially, MFA verifies a person, system, or entity. The term multi-factor means that several credentials are required for access.
Now, let's move on to an Intrusion Detection System (IDS) that verifies all incoming and outgoing network activity. It searches for any intrusions that may compromise your systems. The primary purpose is to send alerts when it discovers any unauthorized activity. Unquestionably, IDS is a passive monitoring system. However, an Intrusion Prevention System (IPS) takes this one step further by finding anomalies in the system and preventing these types of intrusions on any network.
And for another layer of cyber security services, on solution perimeter security, SSI offers DLP technology to provide a 360-degree view, flow, and usage of all data types across organizational networks. DLP checks activity against cyber security policies so that you can receive better protection of sensitive data, financial data, intellectual property, personally identifiable information (PII), and customer data.
Network security
Effective management of your IT systems is essential on two fronts. First, it ensures any digital assets that are client or public-facing — like your website, client account portals, or a payment page — are reliable, compliant, and, more importantly, safe to use. Second, it also guards your reputation, so the data and information utilized in your business operations get appropriately handled.
On several fronts, it is critical to managing your IT systems effectively. For starters, it ensures all your client-facing portals are reliable, safe, and compliant. Secondly, it helps to safeguard your company's reputation in terms of managing customer data. Listed below are several cyber security services SSI uses to enforce your network security:
● Content filtering
● Patching
● SOC/SIEM
● WiFi security
● Vulnerability scanning
Endpoint security
Endpoint security entails protecting any assets associated with its corresponding network. Endpoint security may also be called endpoint protection.
Unquestionably, 5G is transforming the way businesses operate. Today, smart devices can take advantage of the available high bandwidth to manage their work and personal lives from anywhere. However, the devices also increase the attack surface for cyber criminals. These "endpoints" offer both opportunities and risks. The need for endpoint security has never been greater! Take a look at the methods we use to ensure endpoint security:
● Desktop firewall
● Content filtering
● Antivirus/Antimalware
● Patch management
Data security
Given the sensitive nature of personally identifiable data, organizations need to have robust cyber security services in place. Indeed, all data is critical data. And not only should 5 layers of security be implemented to predict any potential attacks but also to prevent data breaches as a whole. Necessary protocols to have include:
● Data encryption
● Data backup
● DLP
Security awareness training
One of the most effective ways to secure your systems is with security awareness training. Based on Verizon's Data Breach Investigations Report, they discovered that 32% of breaches were caused by phishing. Even if your IT team worked non-stop, they still wouldn't have the ability to prevent non-technical staff from clicking on suspicious emails and links. Your IT team is probably already overwhelmed with fixing, patching, and threat response. Yet, most data breaches start with end-users. Once a device is compromised, cyber criminals may gain access to your entire network. One of the most successful ways of protecting your business is by ensuring your employees understand how to act as the first defense line. The excellent news is SSI offers comprehensive training on:
● Security awareness/education
● Phishing campaigns
In conclusion
In an age where data is currency, and cyber crime is on the rise, every organization must comprehend that data breaches are far more costly than the investment in cyber security service. As a result, it is advised to partner with a managed security services vendor to protect all your data. In addition, you can leverage the five layers of security along with 24/7 access to a team of cyber security experts. Let SSI ease the burden of implementing cyber security services throughout your infrastructure.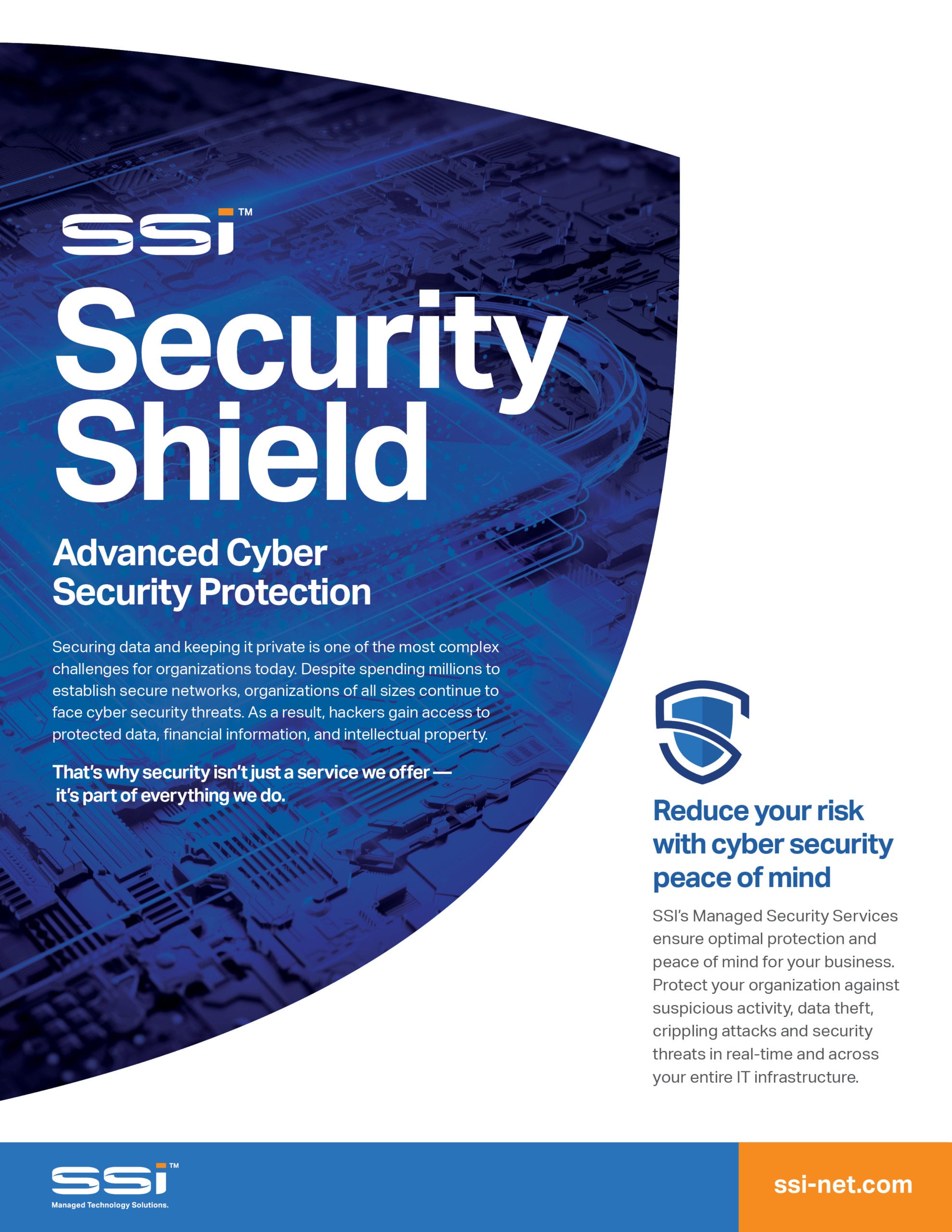 Managed Security Services


Find out why SSI is a worthy partner in Managed Security Services. Read the Security Shield Advanced Cyber Security Datasheet.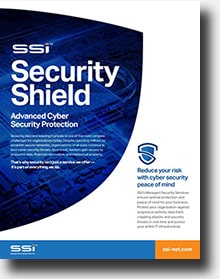 DOWNLOAD